As Peru Battles Covid-19, Tuberculosis Finds New Footing
Publicação: 6 de abril de 2021
Covid-related disruptions have given TB room to run, prompting health officials to explore new tactics to combat it.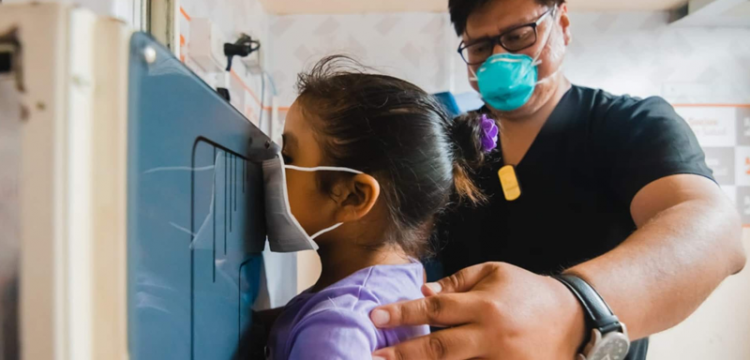 IN LATE FEBRUARY 2020, Martin Valencia Garcia was working as a community agent in Independencia, one of the denser districts of Lima, Peru. His job was to help people access tuberculosis diagnosis and treatment with the TB Móvil program, part of a larger effort led by the nonprofit health care organization Partners in Health to drastically reduce TB rates in Lima's at-risk communities. TB, which most commonly affects the lungs, is one of the deadliest infectious diseases in the world, and Peru, according to data from 2017, has the highest rate of drug-resistant TB in the Americas.
RELATED
Covid-19 Drives Up Polio in Afghanistan
While working, Valencia Garcia met a 52-year-old man with a cough and invited him to get a scan at the TB Móvil van visiting his neighborhood, one of two in the city with an X-ray machine and artificial intelligence technology. The man's results indicated he needed further tests and treatment, but not long after, the whole country was on lockdown due to Covid-19. Tuberculosis services were limited, and Valencia Garcia suspects the man got tired of waiting. "He could not do the exams, and since he couldn't do the exams, he couldn't be diagnosed and he couldn't receive treatment," says Valencia Garcia. Many people have experienced the same, he adds. Though he was in charge of the man's case, Valencia Garcia says he lost contact with him in late April. As far as he knows, the man was never diagnosed or treated.
Tuberculosis kills around 1.5 million people a year, making it a top priority for public health organizations. The United Nations aims to end the epidemic of tuberculosis by 2030, but Covid-related disruptions to TB treatments may push that goal out of reach — and end up propagating strains that are resistant to treatment, which also tend to be the deadliest.
"Many people have undetected cases or have stopped coming to receive their treatment" due to the pandemic, says Luz Villa-Castillo, a study coordinator at Cayetano Heredia University in Lima. The resulting lack of diagnostic testing and inconsistent treatment is masking a rising tuberculosis caseload, doctors fear. Patients who have started antibiotics may not have the right medications to continue treatment, which means they "have likely become resistant," Villa-Castillo says, "because they have let a lot of time pass without going to the health center."
Fonte: https://undark.org/2021/03/08/peru-tuberculosis-resurgence-covid-19-pandemic/?fbclid=IwAR2OBxIHP3NmLf5xF11aj7IEqrB1fqvS4nBIAvWEv8Elys9fctKJEwBaSps
Comentários