Infant BCG vaccination and risk of pulmonary and extrapulmonary tuberculosis throughout the life course: a systematic review and individual participant data meta-analysis
Publicação: 16 de agosto de 2022
BCG vaccines are given to more than 100 million children every year, but there is considerable debate regarding the effectiveness of BCG vaccination in preventing tuberculosis and death, particularly among older children and adults. We therefore aimed to investigate the age-specific impact of infant BCG vaccination on tuberculosis (pulmonary and extrapulmonary) development and mortality.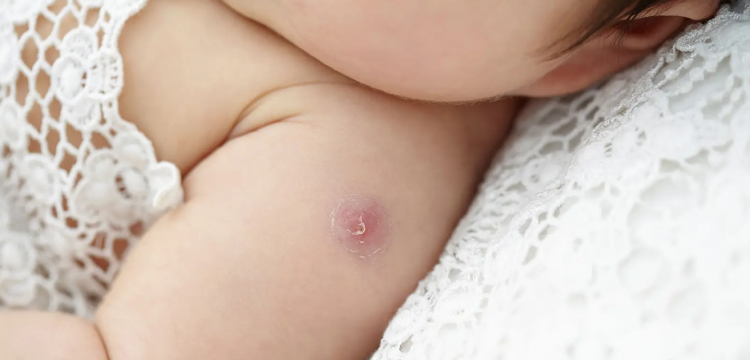 In this systematic review and individual participant data meta-analysis, we searched MEDLINE, Web of Science, BIOSIS, and Embase without language restrictions for case-contact cohort studies of tuberculosis contacts published between Jan 1, 1998, and April 7, 2018. Search terms included "mycobacterium tuberculosis", "TB", "tuberculosis", and "contact". We excluded cohort studies that did not provide information on BCG vaccination or were done in countries that did not recommend BCG vaccination at birth. Individual-level participant data for a prespecified list of variables, including the characteristics of the exposed participant (contact), the index case, and the environment, were requested from authors of all eligible studies. Our primary outcome was a composite of prevalent (diagnosed at or within 90 days of baseline) and incident (diagnosed more than 90 days after baseline) tuberculosis in contacts exposed to tuberculosis. Secondary outcomes were pulmonary tuberculosis, extrapulmonary tuberculosis, and mortality. We derived adjusted odds ratios (aORs) using mixed-effects, binary, multivariable logistic regression analyses with study-level random effects, adjusting for the variable of interest, baseline age, sex, previous tuberculosis, and whether data were collected prospectively or retrospectively. We stratified our results by contact age and Mycobacterium tuberculosis infection status. This study is registered with PROSPERO, CRD42020180512.
Findings
We identified 14 927 original records from our database searches. We included participant-level data from 26 cohort studies done in 17 countries in our meta-analysis. Among 68 552 participants, 1782 (2·6%) developed tuberculosis (1309 [2·6%] of 49 686 BCG-vaccinated participants vs 473 [2·5%] of 18 866 unvaccinated participants). The overall effectiveness of BCG vaccination against all tuberculosis was 18% (aOR 0·82, 95% CI 0·74–0·91). When stratified by age, BCG vaccination only significantly protected against all tuberculosis in children younger than 5 years (aOR 0·63, 95% CI 0·49–0·81). Among contacts with a positive tuberculin skin test or IFNγ release assay, BCG vaccination significantly protected against tuberculosis among all participants (aOR 0·81, 95% CI 0·69–0·96), participants younger than 5 years (0·68, 0·47–0·97), and participants aged 5–9 years (0·62, 0·38–0·99). There was no protective effect among those with negative tests, unless they were younger than 5 years (0·54, 0·32–0·90). 14 cohorts reported on whether tuberculosis was pulmonary or extrapulmonary (n=57 421). BCG vaccination significantly protected against pulmonary tuberculosis among all participants (916 [2·2%] in 41 119 vaccinated participants vs 334 [2·1%] in 16 161 unvaccinated participants; aOR 0·81, 0·70–0·94) but not against extrapulmonary tuberculosis (106 [0·3%] in 40 318 vaccinated participants vs 38 [0·2%] in 15 865 unvaccinated participants; 0·96, 0·65–1·41). In the four studies with mortality data, BCG vaccination was significantly protective against death (0·25, 0·13–0·49).
Interpretation
Our results suggest that BCG vaccination at birth is effective at preventing tuberculosis in young children but is ineffective in adolescents and adults. Immunoprotection therefore needs to be boosted in older populations.
Funding
National Institutes of Health.
Introduction
The BCG vaccine is around 100 years old and is one of the most widely used vaccines globally.1 The vaccine has a well established safety profile2, 3 and is considered highly cost-effective in most settings, especially in low-income countries with a high tuberculosis burden.4 However, there is considerable debate about the impact that BCG vaccination has on tuberculosis, particularly among older children and adults.1, 5, 6There are several crucial unanswered questions about BCG vaccination that have important implications for global tuberculosis epidemics and the development of supplemental vaccines. Whether BCG vaccination protects against pulmonary tuberculosis is unclear. There has been wide variability in estimates of the effectiveness of the BCG vaccine against pulmonary tuberculosis,3, 5, 6 with some studies showing strong protection and others showing none. Several reasons for this heterogeneity have been proposed, such as sensitisation by environmental mycobacteria, the timing of BCG administration, and stringent tuberculosis testing.3, 6, 7, 8 Additionally, there is a paucity of data on the impact of BCG vaccination on mortality during childhood,9, 10 with several studies having been done in the pre-chemotherapeutic era, producing heterogeneous results.11, 12 More recent studies suggest potential sex-specific differences in the effectiveness of BCG vaccination.13, 14Research in contextEvidence before this studyThe BCG vaccine is around 100 years old and among the most widely used vaccines globally. We searched PubMed for relevant articles without language restrictions published between database inception and April 1, 2022, using the search term "BCG" together with "tuberculosis", restricting to title and abstract fields. We found that previous studies have shown heterogeneous results and there is still considerable debate about BCG vaccination and its impact on tuberculosis and death. Estimates for the protection offered by BCG vaccination for the prevention of pulmonary tuberculosis have ranged from 0% in a trial from south India to 80% in a trial from the UK. The majority of previously published studies examining the effect of BCG vaccination were done in settings with low tuberculosis burden and are now more than 50 years old.
Fonte: https://www.thelancet.com/journals/langlo/article/PIIS2214-109X(22)00283-2/fulltext
Comentários