Call for experts: Deadline Extended Technical Advisory Group on Tuberculosis Diagnostics and Laboratory Strengthening
Publicação: 29 de abril de 2021
.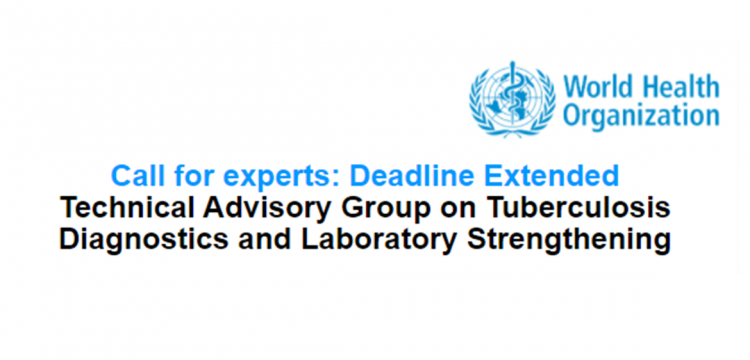 29 April 2021, Geneva | The Global TB Programme of the World Health Organization (WHO) is extending the deadline for applications for the Technical Advisory Group on Tuberculosis Diagnostics and Laboratory Strengthening.
Experts are sought from a diversity of backgrounds, disciplines, expertise and knowledge of TB diagnostics, clinical laboratory sciences and community activities aimed at improving laboratory services. Additional requirements are set out in the attached Terms of Reference.
Interested Experts wishing to submit their application are invited to follow the instructions outlined on the dedicated web portal.
Expressions of interest will be received through the above portal until 16 May 2021.
For further information, please contact us via: gtbpci@who.int
Fonte: https://mailchi.mp/who/call-for-experts-deadline-extended-technical-advisory-group-on-tuberculosis-diagnostics-and-laboratory-strengthening?e=81d56ff5cb
Comentários